Main Menu
View
locations page
for menu pricing. Items may be subject to change by location.
Antipasti
Calamari Fritti*

crispy calamari, calabrian pepper pesto, citrus black pepper aioli

11.5

Caprese Salad

vine-ripened tomatoes, imported mozzarella, basil, balsamic glaze

11.5

Stuffed Mushrooms

mushroom caps filled with sausage, goat cheese, ricotta + spinach, mediterranean vinaigrette

11.5

Spinach + Artichoke Dip

spinach, artichokes, parmesan, mozzarella, white wine, hint of spice, garlic-brushed rosemary bread

11
Choose 2 Antipasti

Crispy Brussels Sprouts

crispy brussels sprout halves, balsamic glaze

Signature Mac + Cheese Bites

crisp-fried four-cheese pasta, truffle alfredo sauce

Bruschetta

grilled rosemary bread, whipped ricotta, roma tomatoes, garlic, basil

Crispy Fresh Mozzarella

parmesan-breaded mozzarella, arrabbiata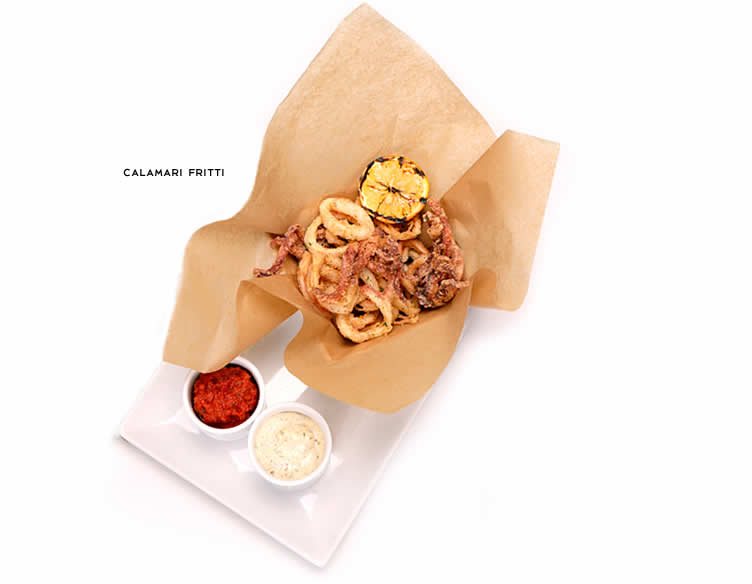 ---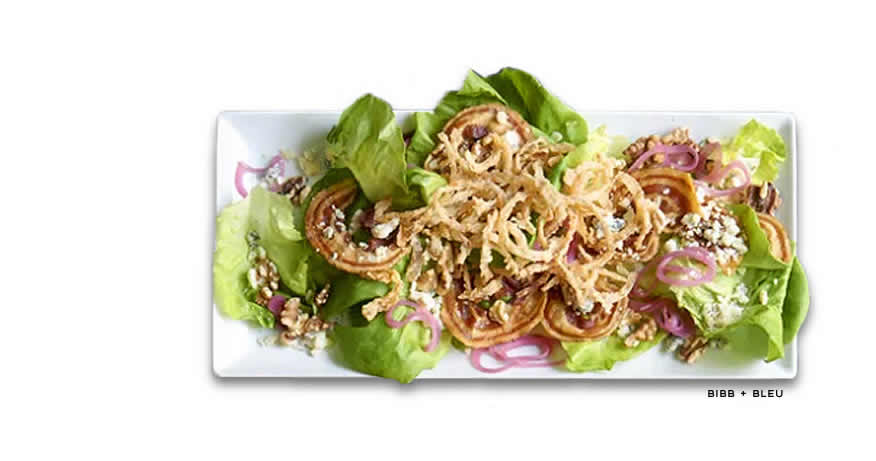 Salad + Soup
Italian Chopped

roasted chicken, romaine, roma tomatoes, chopped pepperoni, feta, cucumber, parmesan, oreganata dressing

14.5

Bibb + Bleu

bibb leaves, gorgonzola, walnuts, crispy prosciutto, crispy onions, pickled red onions, buttermilk ranch

11.5

add chicken 3.5 | add shrimp* 5

Parmesan-Crusted Chicken

parmesan-crusted chicken, fresh greens, crispy prosciutto, roma tomatoes, buttermilk ranch, balsamic glaze

13

Rosa's Signature Caesar

romaine, romano, creamy caesar dressing, rustic croutons

10.5

add chicken 3.5 | add shrimp* 5

Tomato Basil Soup

tomatoes, fresh basil, herbs

6.5

Lobster Bisque

smooth, rich, creamy lobster + shrimp bisque

8
---
Land + Sea
Chicken Scaloppine

chicken breast, artichokes, mushrooms, capers, prosciutto, lemon butter, capellini

19.5

Chicken Parmesan

hand-breaded milanese-style chicken breast, imported pomodorina, mozzarella, capellini

18

Pollo Caprese

grilled chicken breast, tomatoes, imported mozzarella, herbs, arugula, pickled onions, balsamic glaze

17

Chicken Marsala

chicken breast, mushrooms, marsala wine sauce, roasted garlic, capellini

20.5

Grilled Salmon*

grilled salmon filet, calabrian honey pepper glaze, spinach + sun-dried tomato pasta

23

Shrimp Portofino*

sautéed jumbo shrimp, capellini, spinach, mushrooms, garlic, pine nuts, lemon butter

19.5

Steak + Potatoes*

10 oz. sirloin, buttermilk mashed potatoes, sautéed broccolini

27

oreganata sauce | rosemary butter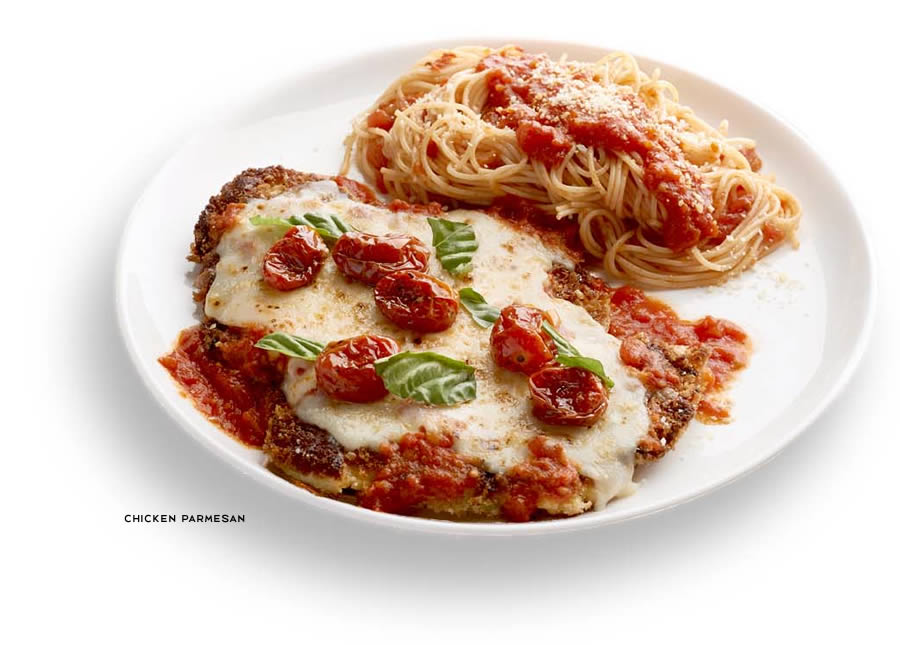 ---
Pasta
Pasta Milano

roasted chicken, sun-dried tomatoes, mushrooms, rigatoni, roasted-garlic cream sauce

17.5

Mushroom Ravioli

porcini-stuffed fresh pasta, caramelized onions, marsala cream sauce

18

Penne Rustica*

roasted chicken, shrimp, prosciutto, rosemary cream, parmesan

18.5

Seafood Ravioli

seafood-filled fresh pasta, roma tomatoes, asparagus, lemon butter, shrimp

21.5

Mama's Trio

chicken parmesan, lasagna bolognese, fettuccine alfredo

21.5

Signature Truffle Mac + Cheese

penne, asiago, fontina, smoked mozzarella, cheddar, pecorino, truffle oil, herbed breadcrumbs

16

Mom's Ricotta Meatballs + Spaghetti

house-made beef, veal, pork + ricotta meatballs, romano, spaghetti
with pomodorina sauce 16.5 | with bolognese sauce 17.5

Fettuccine Alfredo

parmesan, butter, cream

15

add chicken 3.5 | add shrimp* 5

Butternut Tortellacci

tortellacci stuffed with four-cheese blend, asiago cream, butternut squash, prosciutto, parmesan

21

Lasagna Bolognese

bolognese sauce, italian sausage, ricotta, mozzarella, imported pomodorina

18

Pomodoro Tortellacci

tortellacci stuffed with four-cheese blend, imported pomodorina, charred tomato

19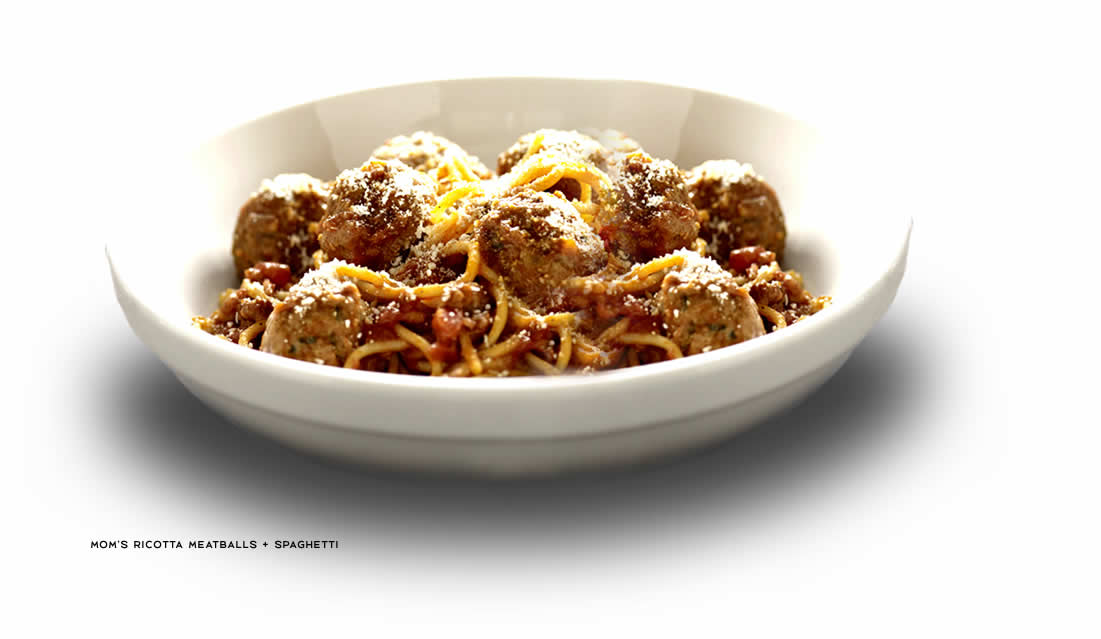 ---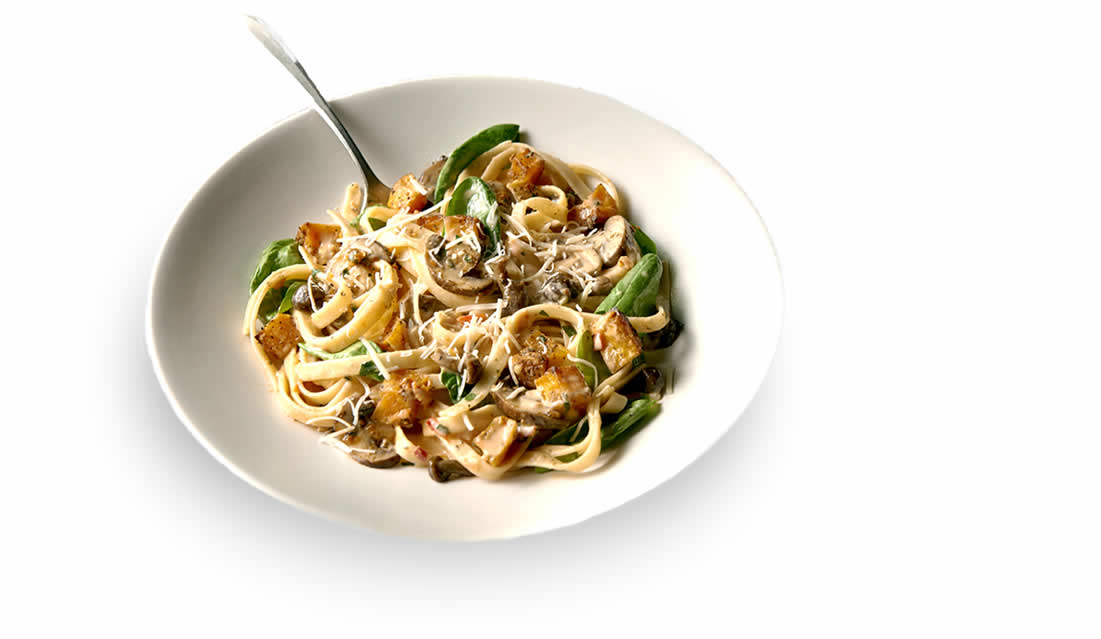 Create Your Own Pasta
You pick, we perfect. Customize your pasta with fresh Italian ingredients.
Pasta | Choose One

spaghetti, capellini, penne, fettuccine, rigatoni

Sauce | Choose One

imported pomodorina, arrabbiata, bolognese, alfredo, pesto, lemon butter, garlic olive oil, roasted-garlic cream sauce

Top It Off | Choose Up To Three

roasted peppers, fresh spinach, roasted tomatoes, sun-dried tomatoes, roasted garlic, broccolini, roasted mushrooms, fresh mushrooms, asparagus

Add Your Protein

roasted chicken, fresh mozzarella, italian sausage, prosciutto, meatballs
---
Sides
Parmesan Truffle Fries

3.5

Grilled Asparagus

3.5

Buttermilk Mashed Potatoes

3.5

Broccolini

3.5
Crispy Brussels Sprouts

3.5

Sautéed Spinach

3.5

Spinach + Sun-Dried Tomato Pasta

3.5
---
Romano's House Favorites
600 calories or fewer
A temporary $2 fee will be added to offset macroeconomic pressures.
*Menu available at participating locations only
*Consuming raw or undercooked animal foods (such as: meats, poultry, seafood, shellfish or eggs) may increase your risk of contracting foodborne illness, especially if you have certain medical conditions. May be cooked to order.